As a universal form of adornment, jewellery has survived from prehistoric times. The jewellery trade is no longer an ancient and mysterious field where metal smiths sit behind jewellery benches slowly and meticulously filing or sawing.
Nowaday, technologies play a large part in jewellery and new technologies are introduced at a relentless pace. Hence, it's important that aspiring jewellery artists and entrepreneurs are well-informed of current manufacturing landscape and processes
Understanding the pros and cons of traditional and modern methods will also help prospective students to find the specialisations most suitable to their aptitudes or career goals in the sparkling jewellery industry. This webinar will allow you to appreciate and stay informed of the latest technologies and lansdcape of jewellery design & manufacturing
Premium 1.5h Content-packed Webinar!

Gain a comprehensive overview of 6 major jewellery topics
TRADITIONAL JEWELLERY DESIGN

Learn about one of the oldest crafts, jewellery design. Understand how designers gain inspiration and the process of creative jewellery drawing and colour rendering

TRADITIONAL HAND FABRICATION

Learn how a design is turned into an actual jewellery piece by a metalsmith by manipulating materials of silver, copper, bronze, and metal alloys

DIGITAL JEWELLERY DESIGN (CAD)

Jewellery software allows jewellery lovers to design their very own amazing creations with more astounding speed and accuracy than any skilled human can offer.

COMPUTER AIDED MANUFACTURING (CAM)

When the designs are complete, they can be sent to one of the many service bureaus to be produced quickly, accurately and at very competitive prices.

NEW TECHNOLOGY IN POWDER METALLURGY

Learn how new technologies such as Metal Clay is making metalsmithing faster and more beginner-friendly.

FASHION JEWELLERY

Another popular fabrication method - the art of stringing, weaving, wirework... allow artists to make creative and saleable pieces quickly. Learn to differentiate between fashion jewellery and the lower end costume jewellery.

Instructors' profile
Tanja is an award winning jewellery designer & gemmologist with more than 4 decades of experience educating the jewellery industry across 4 continents. Dean and founder of JDMIS, Tanja works with aspiring artisans as well as top jewellery brand team members to help them achieve brilliance in their careers.

Read More
Alex has been training designers and business owners from the region in 3D jewellery design and manufacturing since 2008: building the CAD/CAM skills of over 400 jewellery professionals. He graduated from Duke University with a Bachelors degree in Computer Science, Marketing and Management and from INSEAD with a Masters Degree in Business Administration.

Read More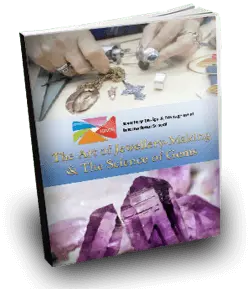 The webinar ticket will come with a complementary high-quality gem &jewellery appreciation eBook, carefully written by JDMIS' Dean and Founder, Tanja Sadow. This eBook consolidates and expands on the knowledge covered in the webinar through detailed write-up and gorgeous illustration!