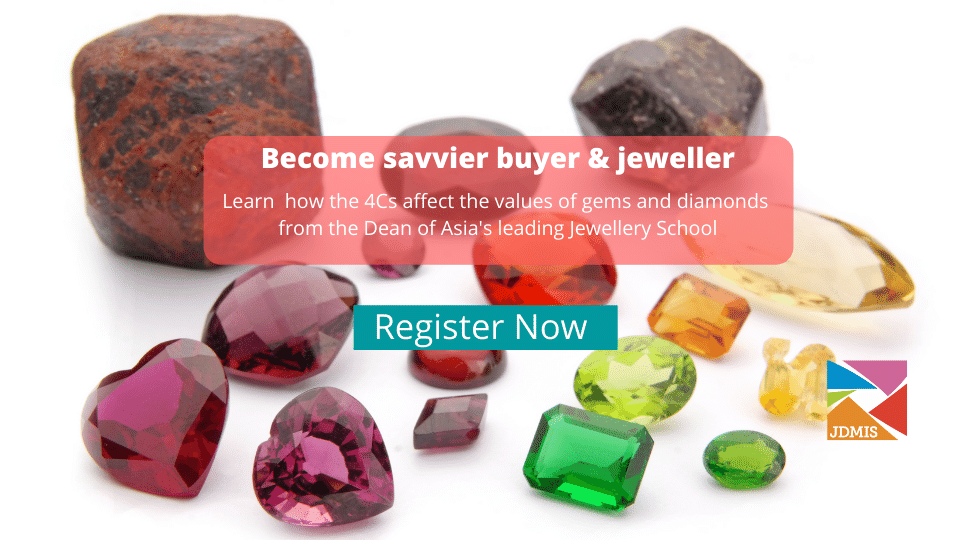 The world of gemstones offers such an endless choice of colour and variety of fascinating minerals that they can satisfy even the most difficult of people to please. Since the dawn of history, men have put their lives at risk in the search for the most beautiful, naturally created, specimens from earth.
What you will learn
Instructors' profile
Tanja is an award winning jewellery designer & gemmologist with more than 4 decades of experience educating the jewellery industry across 4 continents. Dean and founder of JDMIS, Tanja works with aspiring artisans as well as top jewellery brand team members to help them achieve brilliance in their careers.

Read More

A message from Tanja
What our students have to say?
I totally would tell a friend to come to JDMIS. I loved the course in general.

- PJ (Singapore)

Definitely is very useful to create personal pieces for myself and for gifting to others, knowing I have learned the proper way.

- Karen K. (Singapore

If you are thinking of joining the jewellery industry, attend JDMIS courses. Both courses that I have attended are useful for me, (especially) for my new jewellery business.

- Jason T. (Singapore

JDMIS is the only school where you can learn professional techniques in jewellery making. Ms. Tanja Sadow is a great teacher and one can feel very comfortable with her and it's great fun in class.

- N.B. (France))

The amazing thing about JDMIS is that the different courses can complement one another. And even after taking a few modules, a student can be quite independent to create amazing pieces.

- Celia B. (Hungary)

Excellent! I enjoyed this immensely. Time whizzed past without me realizing it!. I would most definitely tell my friends about JDMIS and I hope to come back and attend more courses in the near future.

- C.R. (Brazil)

Great skills taught by great instructors! (I) may create new pieces of jewellery for friends and families, and probably make a jewellery line under my name.

- Kenji P. (Singapore)

The instructors at JDMIS are very professional and provide good quality materials.

- Yvonne M. (Germany)

Kindly sign up below to gain instant access to this exclusive webinar, for free!