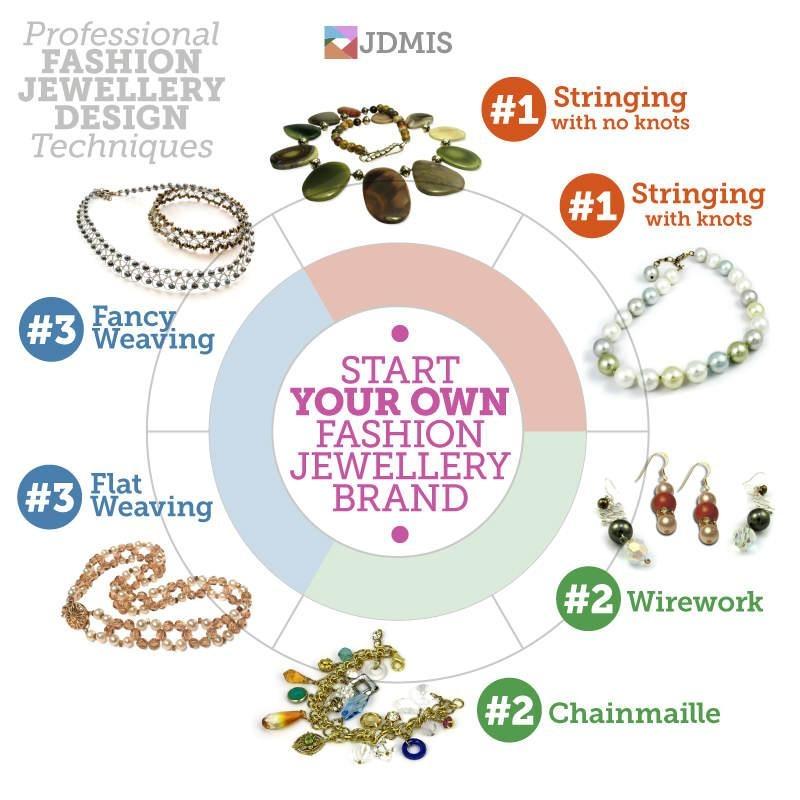 Techniques at a glance. Click the image to enlarge.
Are you are an artisan entrepreneur looking to improve the quality and efficiency of your work? a jewellery company employee needing to implement commercial techniques for in-store repairs? a hobbyist looking for the best training available? Studying Fashion Jewellery with the professionals means less trial and error, a better understanding of the quality of components available, and superior products for your clients, customers or friends and relatives.
As a pillar of JDMIS' professional jewellery courses, the techniques, materials and information in this programme has been refined over decades and thousands of students! It represents the most formal and complete training available in the Fashion Jewellery Arts anywhere.
Course outline
1. New Technologies in Soft Wires

bring us a wide range of fast and strong stringing techniques. Learn about different qualities of soft wire, when to use each, and how to design and create your first pieces of jewellery with a professional looking, lasting finish.

2. Stringing Pearls and Gems Incorporating Knots

is reserved for higher quality jewels. Learn established professional stringing techniques, alternative stringing threads and the very unique finishing methods which apply to this excellent system.

3. Foundation Wirework Techniques

emphasising accuracy, skill and speed are an important tool in every fashion designer's arsenal. Learn to create a variety of designs and understand about wire hardness and tensile strength. Build the technique and confidence to ensure future works are made to high standards and learn unique styles & patterns suitable only for wirework designs.

4. Chain Maille Jewellery

provides new options to the fashion jewellery designer and is very popular in today's market. For both flat and fancy styles, learn practical and decorative uses of these weaving techniques resulting in light and stunning creations with innovative patterns to create wire designs interspersed with natural & man-made materials.

5. Versatile Flat Weaving

is another popular weaving style that allows you to create comfortable, flexible patterns while using strong materials such as steel wire which will never degrade or break, providing a professional alternative to the many jewellery designs that are improperly manufactured using elastic cord that lasts only 6-12 months.

6. Fancy Weaving

The history of chain maille jewellery and its numerous modern weaves and patterns are fun and add a creative dimension to the program culminating with a multi-layered fashionable chain-maille bracelet.
Tools and materials

Price is inclusive of hundreds natural materials, genuine Swarovski Crystals and top-quality findings, as well as a full-set of tools and design boards.

Learning path

Assemble

This course offers a practical hands-on experience. At the end of the workshop, participants will have produced one or more pieces of jewellery.

Pre-requirements: None

Next Step: FJ200. and/or FJ300.

Participants attending and completing this programme can choose to enroll for the full diploma.

Duration

40 hours

7 weeks (1 day/week), or
14 weeks (1 half-day/week)

JDMIS runs week-day, weekend and weeknight courses for this popular course. JDMIS also has flexible make-up schedules and graduates can return without cost for refresher courses (subject to availability).

Course fee