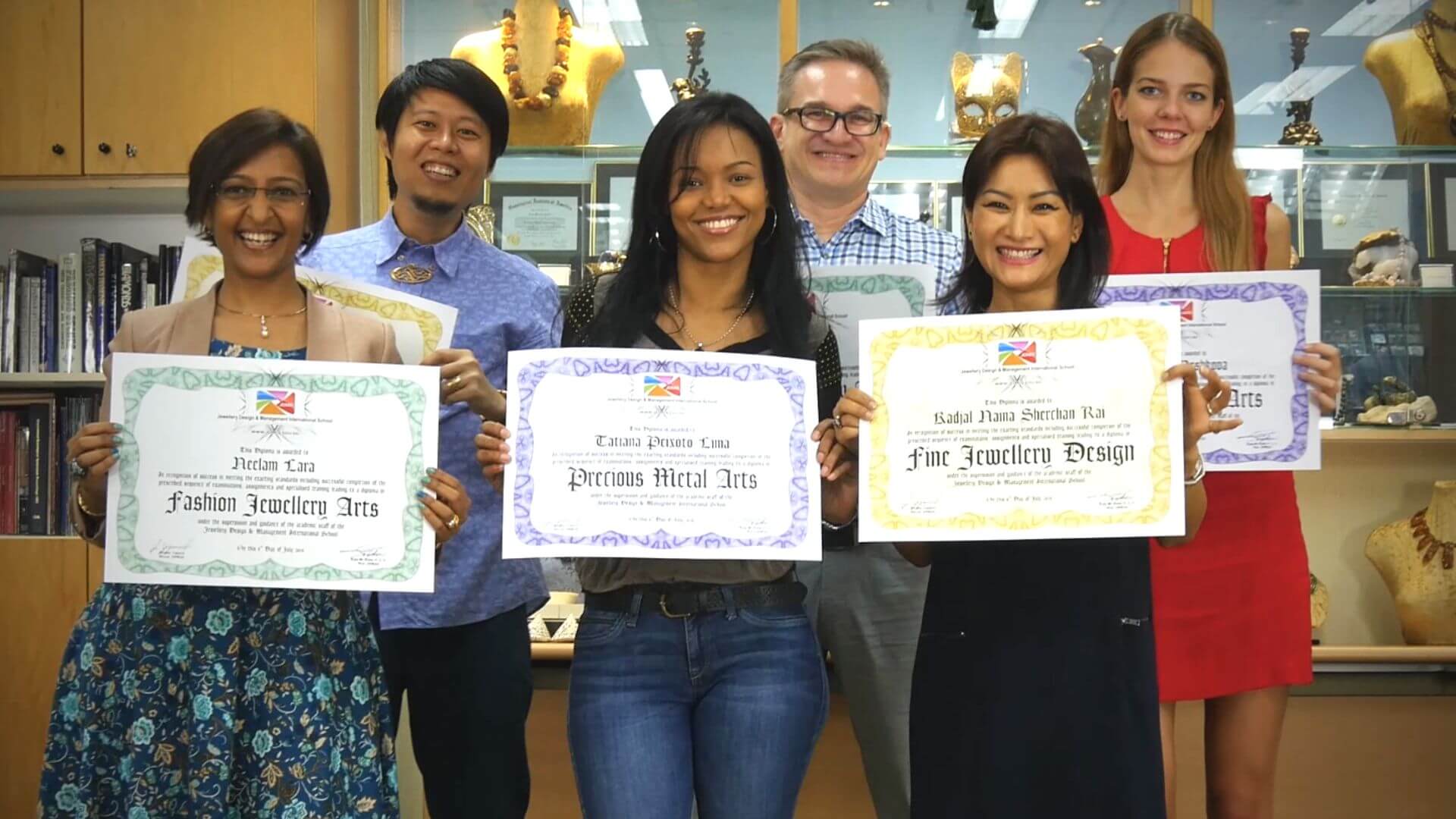 Since March 2021, 28 JDMIS Professional Certificate courses became eligible for generous SkillsFuture funding. The funding covers 50-70% of the tuition fees for each course, with no limit on the number of courses learners can sign up for. They can even use your SkillsFuture credits to offset the balance amount on top of the funding. Since then, over 500 JDMIS students have benefited from this scheme to jumpstart their careers and businesses in the sparkling jewellery industry.
Rescheduling fee for non-SSG or SSG supported students that do not fall below 70% attendance


* Waivable in the case of valid reasons such as MC

Rescheduling fee for SSG supported students falling below 70% attendance of their originally scheduled course and completing makeup (subject to availability) within 60 days

S$145 per session
*This amount may not be waived since it requires multiple manual interactions with SSG to coordinate reporting and completion of pogrammes and disbursement of SSG grant

Examination fee for SSG supported student completing final exam after end of class and within 60 days of exam date

*This amount may only be waived if the exam is completed within 6 calendar day (before 5:00pm) of the conclusion of class.

Course fee grant recovery when attendance and assessment requirements for SSG funding are not met*

100% of grant amount applied to course fee. Payable immediately upon failure to complete SSG requirement, regardless of appeal status.
*ALL SSG Supported students to note that government support is withdrawn immediately and automatically if:
- Attendance falls below 70% and makeup is not completed within 60 days
- Final assessment is not completed within 60 days of course end and submitted to SSG.
JDMIS does not submit appeals on behalf of students. Course fees become payable in full if SSG requirements are not met. If individual appeals to SSG to are successful AND courses are completed according to SSG appeal specifications, JDMIS will subsequently reimburse students for grant fees when they are paid out to JDMIS (typically 3-6 months after completion of requirements.) Reimbursements are subject to an administrative fee of 0-4.5% depending on the payment method used for grant recovery payment.
Enrolment Process
Are you ready to confirm your course and schedule?
The course enrolment process is fast and easy, and will be taken care of by our registrar in typically less than 10 minutes from start to finish!
In the guide below, we explain in detail the registration and payment processes that our registrar will guide you through when you sign up for a course. This way, you have everything you need to know about your course fees in an upfront and transparent manner!
Step 1: Discover

Learn more about the course(s) that best match your interests and availability. When you are ready, confirm your intended schedule with the JDMIS enrolment team.

Step 2: Enroll

To start the process of enrolling you in a course, the JDMIS registrar will ask your personal information, which includes your full name, NRIC, date of birth, and contact details.

Submission of SSG grant

If you are Singapore or PR and wishes to make use of the generous SSG/SkillsFuture funding for your course, then our registrar will also take care of submitting an SSG grant claim for you. This involves submitting your personal information (as detailed above), and if your course enrolment is sponsored by your company, then we will also need details about your job position.

Please rest assure that your personal information is stored securely at JDMIS and is communicated to SSG via encrypted communication only. It is never used for purposes other than your course enrolment and for reporting to SSG.

Kindly note that once you have enrolled in a course and your grant information has been submitted to SSG, there is a small administrative fee chargeable for any changes/cancellation to your enrolment due to the administrative processes needed to reverse your SSG grant claim.

Step 3: Claim

SkillsFuture Credit Claim

If you are a Singaporean and would like to use your SkillsFuture Credits to offset your balance tuition fees, you may do so conveniently using JDMIS' integration with the SSG SkillsFuture Pay Portal. Simply follow the link we send you, login via your SingPass and confirm your claim amount. Our registrar will then take care of submitting your invoices, attendance and assessment records to process the claim.

Please note that after you have made a SkillFuture Credit claim, there is a small administrative fee chargeable for claim cancellations due to the administrative processes needed to reverse your claim. Please also be aware that SSG's processing time for SkillsFuture Credit refunds is undefined and it may take several months for your credits to be refunded.

Step 4: Pay

Pay for any remaining tuition fees

Once we have processed your SSG grant and SkillsFuture Credit claims, we will send you an invoice for the balance tuition fees which is needed to complete your course registration.

Tools and materials

All the tools and materials needed for your course are provided, so there is no need for you to bring anything along when you come for class. These tools and materials are yours to keep, even after completion of your course, because here at JDMIS we believe in providing you with the means to continue practising and improving your jewellery skills!

The fee for tools and materials is not covered by the SSG grant, and will be invoiced and paid separately at the time of registration.

Payment methods

JDMIS maintains an electronic invoicing system for any direct payments for course fees, which is integrated with Stripe, the world's largest digital payment enabler as well as many other popular methods such as GrabPay, Atome, ShopBack PayLater... You can pay securely online or through in-person payment (credit cards or cash).

Kindly note that course cancellation is subjected to the school's standard rescheduling and refund policies.

Step 5: Participate

You are now ready to participate in a unique learning experience at JDMIS!

All your tools and materials are provided, and the fee for these (which is not covered by the SSG grant) can be settled on the first day of your class with the school's registrar.

Please be reminded that JDMIS class sizes are very small to ensure the best possible experience! There are limited seats for our active students and for past graduates who wish to avail of JDMIS' lifetime refresher policy. We can only manage changes up to five days in advance of the course start date. With less than 5 days' notice, an administrative fee applies for any last-minute course changes or cancellation according to the school's standard rescheduling and refund policies.
Frequently Asked Questions
A: Yes. SSG requires that you complete at least 70% attendance of your originally registered course schedule and also requires that you complete and pass the end-of-class assessment. If you are unable to do this, the grant will be revoked and the course fees covered by the now-revoked grant will become payable in full.
In the case of courses that include asynchronous online learning components, you are also required to view/complete these elements. Every login is reported to SSG and your progress (measured by your marking course modules as 'complete' in our e-learning platform) is used by SSG to evaluate your online attendance/completion. Your instructor will help you understand the process, which is easy and painless. It is not possible to claim funding without logging in and completing the asynchronous e-learning components and these must be completed before the end of your course.
A: No. Enrolment records submitted on your behalf for SSG grants are tied to a specific course schedule. This cannot be changed without cancelling the enrolment and incurring administrative costs. When you confirm you wish to take a course, your enrolment and the resulting invoice represent the start of the administrative process of JDMIS communicating with government agencies on your behalf.
A: No. There is a substantial amount of administration needed to submit grant requests. These grant requests include payment records for tuition fees, and must be received by SSG BEFORE the start of the class. Therefore, there is insufficient time for these submissions to take place with less than 3 working days from the start of the class.
A: No. Because of the substantial amount of administration and time required to submit grant and claim requests to SSG, we do not accept 'walk-in' participants who wish to receive grants or claims.
A: Yes. You may feel free to cancel your enrolment at any time up until 5 days before the start of the class. Cancellation involves administrative fees that cover the further process that JDMIS needs to complete to reverse the grant application with SSG and, if you make a SkillsFuture Credit Claim, reverse the SFCPay claim.
Cancellation with less than 5 days will incur an additional last-minute cancellation fee of up to $321, and no cancellation will be accommodated on or after the course start date. You may refer to the full table of administrative fees in the JDMIS
short course refund policy page.
.
A: Please let us know as soon as possible. Withdrawal from your intended schedule counts as a cancellation and will incur non-refundable administrative fees which increase if the cancellation takes place with less than 5 days' notice from the start of the class.
Click here
to view our latest refund and cancellation policies.
With advance notice, JDMIS can work with you to find alternatives to make up for missing days and where appropriate, may even be able to resubmit your grant request for a future course (subject to approval from external parties). Please note that as a matter of policy, neither JDMIS nor SSG, under any circumstances, pro-rate course fees or course fee grants.
SSG requires attendance and assessment requirement be met in order to disburse grants. There are no exceptions.
If you commit to take a class and start a class with JDMIS, you are liable for those course fees, regardless of circumstances. There is no 'undo' option once JDMIS has committed space and recourses to your intended training schedule.
If you have extenuating circumstances (whatever they may be) JDMIS remains flexible to allow you to make up your classes at a later date and even use the school's generous refresher policy to start again and ensure your learning is complete despite your extenuating circumstances.
JDMIS has a re-scheduling fee of $45 per session that we will waive for official reasons such as those supported by a medical certificate for you or a direct family member, or for evidence of accident or personal loss.
*Important Note
G requires a minimum of 70% attendance and completion of assessments according to your original scheduled intake. If you fall below this, (with or without an official excuse), there are non-refundable and non-waivable fees of $145 per session/per assessment that are associated with the administrative cost of claiming your grant across multiple course runs.
SSG requires that ANY AND ALL remedial action (such as course make-up lessons and assessments) be completed not more than 60 days after the course date. Failure to complete such lessons will result in your grant being withdrawn and will result in any grant deductions on your original course fees being payable in full and immediately to JDMIS.
JDMIS is under no obligation to provide make-up courses or assessments outside of its existing regularly scheduled courses – and such sessions are subject to availability. If no sessions are available, if it you are unable to complete your remedial actions within 60 days, the grant will be withdrawn and the grant deductions will become payable. If you have what SSG consider legitimate reasons for being unable to complete your training (such as an official MC for yourself) then it may be possible for you to submit an appeal to SSG to extend the time needed to fulfil the grant requirements.
JDMIS cannot appeal on behalf of individuals. Appeals (submitted, under considerations or approved) do not change the requirement that grant deductions made of your course fees must be paid in full to JDMIS.
In cases where appeals are approved by SSG AND where you are subsequently able to complete any and all conditions of the appeal response from SSG, JDMIS will refund the grant fees to you (less any transaction fees associated with the collection or refund of the amount) within two weeks of JDMIS verifying the grant pay-out from SSG has been made. Typically, this I between 3 and 6 months after completion of appeal conditions.

According to an advisory issued by tripartite partners - the Ministry of Manpower (MOM), National Trades Union Congress and Singapore National Employers Federation, Medical certificates are not required for exemption from work or other activities due to COVID. However, SSG will require evidence of your illness if you choose to appeal and JDMIS cannot advise on what evidence they will accept when considering appeal cases. We recommend you keep detailed evidence of your illness (such as clearly marked test results) in case you need to submit an appeal to SSG.
JDMIS accepts a COVID positive test as evidence of illness for the purposes of waiving its $45 rescheduling fees for non-SSG-funded participants. Such test results are only considered as valid from the first day they were recorded to a period not more than 5 days after the first positive test result. This is in-line with national guidelines.