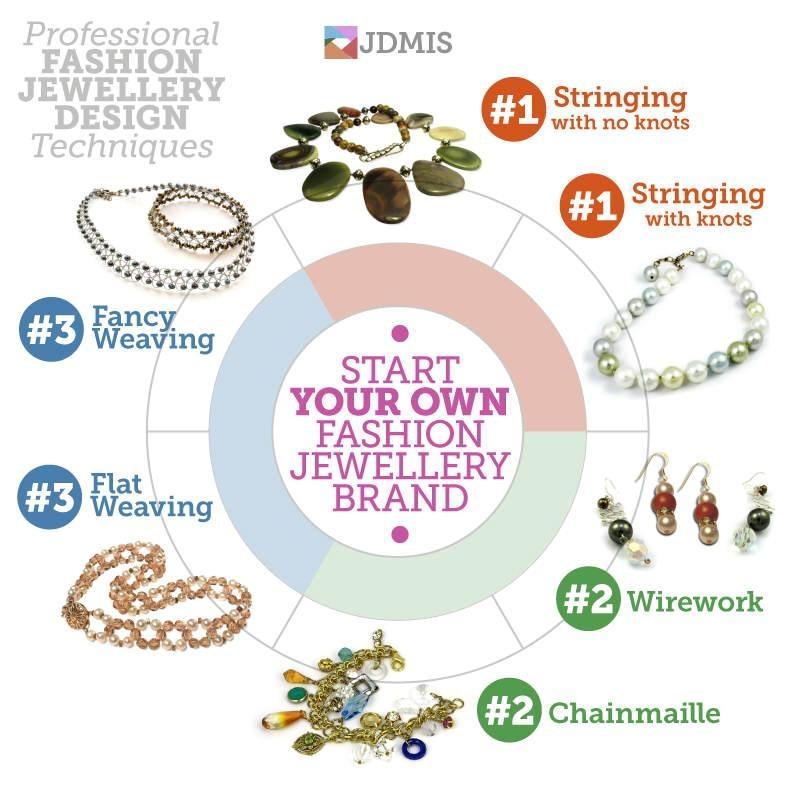 Techniques at a glance. Click the image to enlarge.
Are you are an artisan entrepreneur looking to improve the quality and efficiency of your work? a jewellery company employee needing to implement commercial techniques for in-store repairs? a hobbyist looking for the best training available? Studying Fashion Jewellery with the professionals means less trial and error, a better understanding of the quality of components available, and superior products for your clients, customers or friends and relatives.
As a pillar of JDMIS' professional jewellery courses, the techniques, materials and information in this programme has been refined over decades and thousands of students! It represents the most formal and complete training available in the Fashion Jewellery Arts anywhere.
Course outline
1. Advanced weaving techniques

Advanced Weaving techniques extend existing flat and fancy designs by producing fast and more challenging three dimensional creations. These can be used not only for jewellery, but fashion accessories for handbags, cell phones & much more.

2. Wire wrapping techniques

Wire wrapping techniques can accent or cage unusual materials in soft wire to create distinctive design opportunities. Secure wrapping techniques for pieces with and without holes allow creative expression using many unique objects. Innovative finishing variations add to the singularity of these designs.

3. Advanced knotting design

Advanced knotting designs help you understand how to best combine very different materials, when it is suitable to perform partial knotting, and how to produce long, elegant opera- and satoir-length necklaces with imperceptible joins.

4. Jigs for accurate repeatable wire parts

Use Jigs for Accurate Repeatable Wire Parts. Learn how to use wire jigs to make precise wire shapes that can be used as bacelet parts, clasps, earring hooks and more. Experiment with Celtic, Egyptian, Aztec and modern geometric patterns.

5. Wire coiling

To add elegance and diversity to designs, you will then explore Wire Coiling, a technique used both in history as well as many contemporary designs. Use these skills to create linked coil necklaces, bracelets and accessories

6. Wire component creation

Take your designs to a new level with Wire Component Creation, using half-hard and soft wires make components including clasps, earring hooks, connectors, separators & more. Learn construction techniques for safety, appearance and durability.

7. Advanced wirework techniques

and combinations extend your creative possibilities. Start incorporating chain into wirework designs to create elegantly long or fashionably short necklaces with quality production and speed. Efficient use of gold and silver chain ensures designs remain cost-effective. Another wirework style that will impress even the most discerning clients involves creating grouping patterns connected with wire. Planning and efficiency are emphasized to keep labour costs manageable.