The JDMIS is committed to providing the best possible education and experience to its students! It gives me great pleasure to make the following declaration with regard to the school's core policies...
Student to Teacher Ratio and Teaching Staff
There are no more than 12 students to 1 teacher in any of the JDMIS' theory classes. During practical training portions of JDMIS Courses this ratio is improved to only 10 students to 1 teacher in order to ensure each student receives ample attention and assistance as they learn skills critical to their success in the jewellery industry. The JDMIS has two full-time teachers on staff and two part-time professional jewellery instructors.
Classrooms and Facilities
The JDMIS has four specialized classrooms with a total seating capacity for up to 48 students and an open-plan dynamic student space and library with additional capacity for 20-40 students. These facilities include all the tools and equipment needed to provide an exceptional learning experience, including computers, projection and visualization systems, jewellery-equipment such as a high-temperature kiln, magnetic finishing tools, flex-shaft rotary finishers, rolling mills and more...
Instructors and Governing Boards
The JDMIS maintains an academic board whose purpose is to review the school's procedures and policies with regard to the quality and direction of its training. Board members include Myself, Ms. Genevieve Woo, Mr. Bhavik Bhatt and Mr. Alex Zupancich. The schools examinations board, whose responsibility includes administration of policies and procedures related to assessments and examinations comprise myself, Alex Zupancich and Bhavik Bhatt.
Students at the JDMIS are ensured rewarding training experiences by the quality of their instructors. All JDMIS instructors and visiting instructors are experienced artists, educators and/or industry members and are selected because of their knowledge and passion for the jewellery field. While many may not have stratospheric qualifications themselves, such documents matter little in the a vocation such as jewellery - where artistic ability, industry experience and strong ability and desire to share knowledge are paramount.
JDMIS regular, Singapore-based instructors include:
Tanja Sadow - (Graduate Jeweller and Graduate Gemmologist, GIA) ; Tanja is the founder of the school and had been educating members of the jewellery industry for over 28 years. She is able to teach all JDMIS design, gemmology and fabrication courses, as well as provide valuable insignt into many of the school's business courses. Tanja is involved with the school on a full time basis.
Wahab Hussain (Dip. Accredited Jewellery Professional, GIA) ; Wahab is a talented wire sculptor and metal clay artist with over 10 years of experience in his media. Many of his design styles are self taught and he shares these with his Thread & Wire and Metal Clay students on a part-time basis.
Alex Zupancich (BA, Duke, EMBA, INSEAD) ; Alex specialises in business systems and computer engineering and has been operating jewellery and other businesses in various capacities for over 10 years. He teaches the CAD/CAM courses and JDMIS business courses. Alex is involved with the school on a full time basis.
Kathir Pather (Abdul Kadir Bin Abdul Rahman) Kathir is a 4th generation jeweller with over 30 years of experience as a goldsmith and jewellery business & factory owner; Kathir takes time away from his own jewellery business to run JDMIS metalsmithing diploma modules and develops new, advanced metalsithing and stone setting courses for graduates that wish to go beyond the traditional metalsmithing curriculum.
Sujata Rai Chowdhury (BA, U.Delhi) ; A former school principal, Sujata is an experienced teacher and fashion jewellery artist specializing in thread and wire jewellery fabrication techniques. Sujata has a bachelor of arts degree and a diploma in fashion jewellery design and conveys to her students not only the importance of professional techniques and quality, but also a unique style and enthusiasm for the fashion world.
Prachi Joshi (Bachelor of Architecture, U.Pune) ; An accomplished architect, interior designer and jewellery artist, Prachi is an Australian national who has travelled the world and shares her passion for the history of adornment and her experiences of the impact of culture and fashion trends on popular jewellery styles from around the globe.
Toh Kai Wee (BA, NTU) ; Kai Wee is a professional independent jewellery designer and has a diploma in fine jewellery design. He operates an established brand with loyal clientele and themed jewellery lines sold online and in boutiques around Singapore. Kai has a passion for computer aided jewellery design and experience with computer aided manufacturing with service bureaus in Singapore, Thailand and Hong Kong.
JDMIS also maintains on record the following instructors who, in the past have conducted specialized jewelelry training as part of JDMIS programmes and who may, from time to time, return to JDMIS to assist with ongoing courses or advanced skills training:
Kevin Lu Zixian (Bachelor of Design, RDI) ; A practiced jewellery designer, Kevin has lead the design team with leading brands in Singapore and maintains his own jewellery line producing unique, nature-inspired jewellery pieces. Kevin shares his passion and expertise for computer aided jewellery design with JDMIS Digital Jewellery Design students..
Adele Van Vuuren (BA Fine Arts, Stellenbosch); Adele is a talented Metal Clay and Traditional Metals artist with a jewellery line that is sold on three continents under the brand "VVJ". She helped develop JDMIS' metalsmithing course and when her business commitments allow her, returns to JDMIS to share advanced techniques with her former students and new friends.
Erica Alejandra Delgardo (Adv certifications from Revere Academy, others.) Erica is a silversmith, goldsmith, and jewelry designer with 12 years experience in the industry. Erica runs her own successful retail jewellery studio in Houston TX and JDMIS was privileged to have her join us while she was in Singapore. We look forward to her return with exciting advanced techniques to share with our students.
Bernadette Knijf (BA Art History, Leiden); Bea is an art historian and jewelelry artist who has travelled extensively and fostered her passion for jewellery throughout. Having studied under established jewellery artists in the Netherlands, Mexico and the USA, Bea shares her knowledge in jewellery fabrication and jewellery history and trends when she is in Singapore.
The school also invites internationally renowned jewellery artists and educators to visit Singapore and share their knowledge in the form of specialized short workshops on specific skills and topics.
Thomas Franke (Dip. Int.Design,SGD); Thomas is an interior designer and jewellery designer from Germany. Having completed a traditional apprenticeship under an estabilshed German goldsmith, Thomas shares his metalworking skills with students from his Metalsmithing courses when he returns to Singapore.
Organizational Structure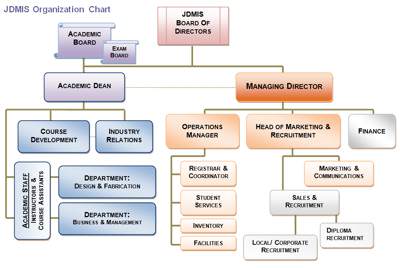 The JDMIS is a small and specialized school; run by experienced and capable entrepreneurs who understand the key to the school's success is the operation of an efficient, student focussed and quality driven enterprise. While formally, the school maintains a series of distinct roles within the organization, in practice the school managers fulfil many of these roles simultaneously, and more efficiently than with large numbers of departments and staff. Students are likely to interact with JDMIS registration and student services staff on a regular basis, but otherwise operational and management issues will be raised to either myself or the COO Alex Zupancich. The school also maintains inventory, maintenance, accounts, design and marketing related staff on full or part-time bases. The school's board of directors (ie: overall managers of the school) includes myself, Alex Zupancich and Rosy Zupancich.
Transparent Pricing and Refund Policies
The JDMIS maintains policies and procedures aimed at ensuring its staff and agents represent the courses we offer clearly and accurately. All marketing documentation clearly states pricing information and JDMIS course prices are inclusive of required tools and materials, mean students will never find themselves having to pay more to complete the supervised project work that is part of the JDMIS curriculum and take with them the tools they need to continue practicing the skills they have learned (please note however that students are free to supplement these materials for self-study projects completed outside of Diploma contact training hours). The JDMIS is a GST registered company and all fees paid to the JDMIS are subject tot he prevailing Singapore Goods and Service Tax. Qualifying tourists may request a GST refund for the tools and materials provided as part of the course.
The JDMIS is aware that circumstances may arise that make it impossible for a student to complete their course of study. When these circumstances affect the JDMIS ability to offer a scheduled course, the school will always offer a refund to its affected students. Where students withdraw from our programmes for personal reasons, the JDMIS is willing to offer full or partial refunds according to clearly stated notice requirements.
Established Feedback Channels and Grievance Redress Policies
The JDMIS recognizes that there are always opportunities for improvement and maintains an open feedback channel by means of its student services staff. In instances of misunderstandings or disputes between students, with faculty or against the school itself the JDMS follows a clear grievance resolution process that includes external mediation and arbitration as a last resort.
Standard Student Contract for Diploma Courses
All prospective local and international students participating in JDMIS full-time diploma programs are required to enter into the Standard Student Contract before course admission. Samples of these standard contracts contract can be viewed at Council for Private Education's website or you may request a copy of this contract from the School or your local agent. A copy of the relevant contract is included in the admissions packet sent to all students accepted into JDMIS Diploma programmes.
The JDMIS is committed to providing superior education as well as a safe and fair educational environment for its students and we are proud to participate in the education trust mark program- In the past the school was accredited under CASETrust for Education and is currently pursuing the Singapore Edutrust certification.
Available Diploma Courses
JDMIS Offers the following Diploma courses that are open to all participants:
Tanja M. Sadow
Dean, Jewellery Design & Management International School