Many people find themselves in the corporate 9-5 job, feeling unfulfilled and lacking a personal touch and creativity. However, the jewellery industry offers a different experience, an opportunity to express your aesthetic sense while connecting with customers. The industry is also a growth industry, busting with potential returns for those who manage to break into this exclusive & mysterious field in Singapore.

Many of JDMIS students and graduates have found satisfaction and passion in this field. If you're considering a change, it may be worth exploring the jewellery industry and seeing if it aligns with your interests and career goals.
You can learn more by watching videos to know inside secrets of how to successfuly make the switch
---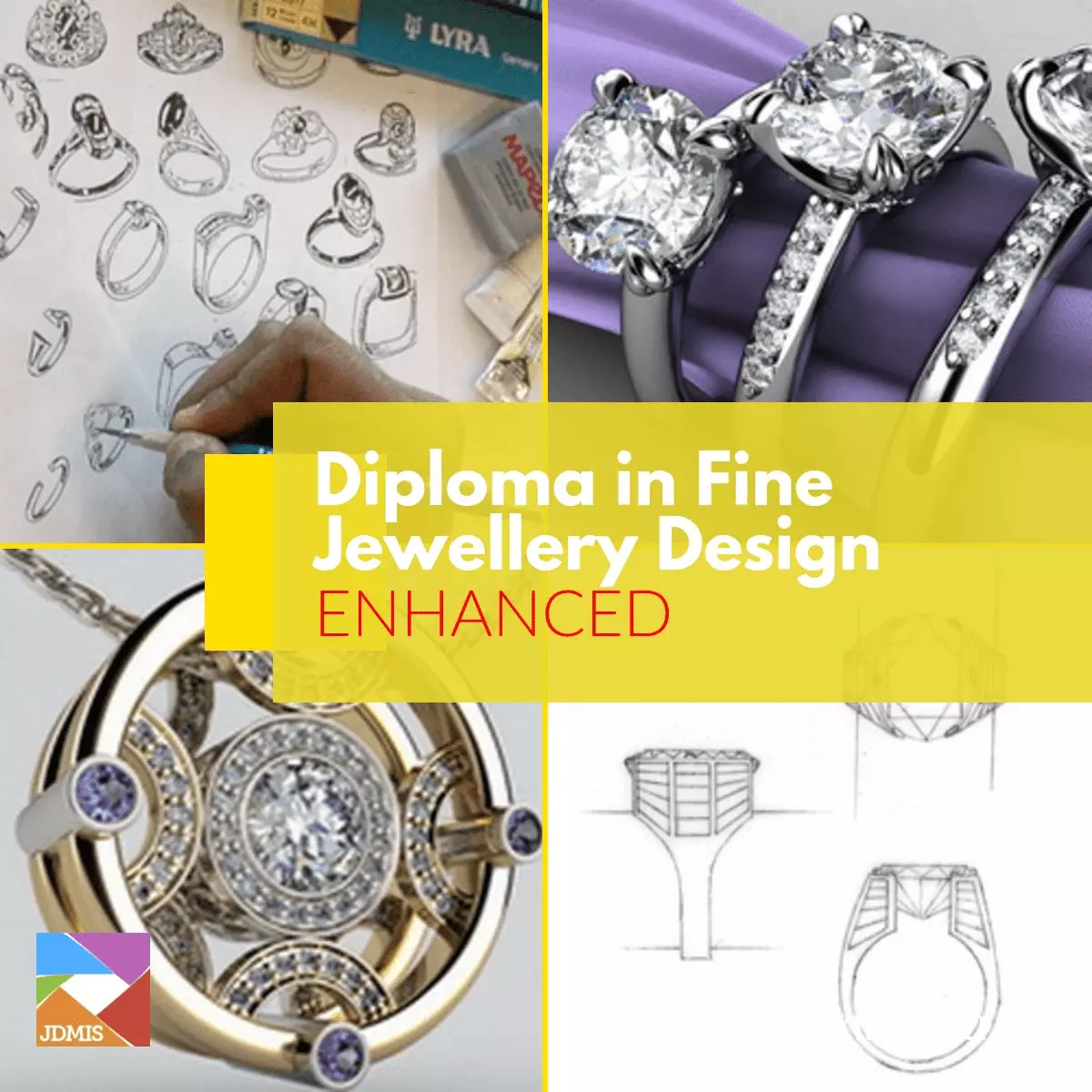 Diploma in Fine Jewellery Design
The best programme in Singapore to help you pivot to a fulfilling and creative career in the sparkling jewellery industry: This modular, fast-track curriculum covers in-depth jewellery training in sketching and draughting, digital design, as well as core knowledge in gemmology and jewellery trends. Get the best learning experience with detailed projects, expert instructors, and a strong graduate support network. Learn more.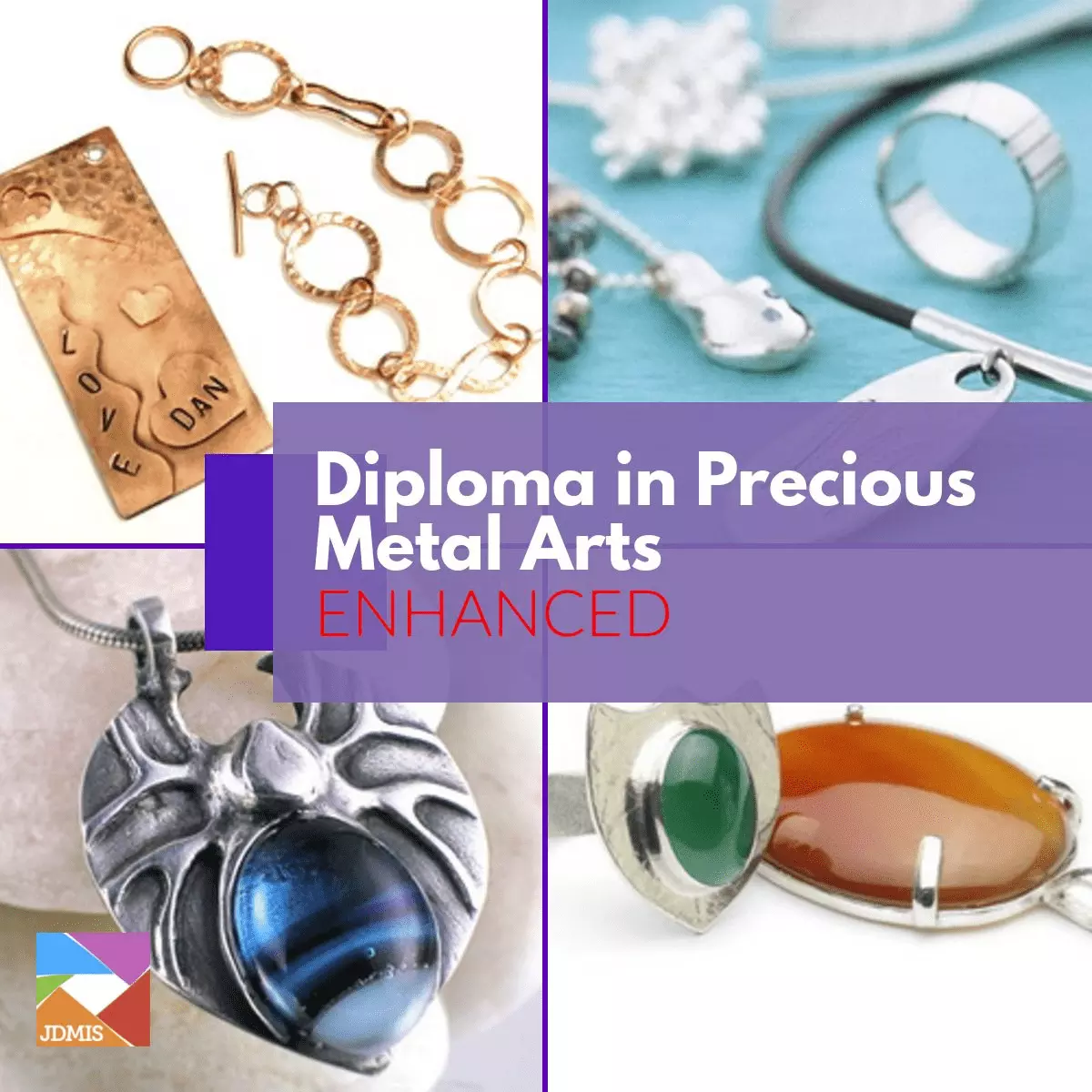 Diploma in Precious Metal Arts
If you enjoy hands-on work and love exploring with a wide range of tools, then creating jewellery in metal arts might be your next exciting adventure. This structured programme with its accelerated pathway will transform you from a beginner to a metal artist who can create without limit in a matter of months!
A Certified Precious Metal Artist possesses a deep understanding and appreciation for work with precious metals. You will learn to master both new technologies and traditional metal work techniques, to give you the skills and confidence to produce unique and remarkable jewellery creations. Learn more.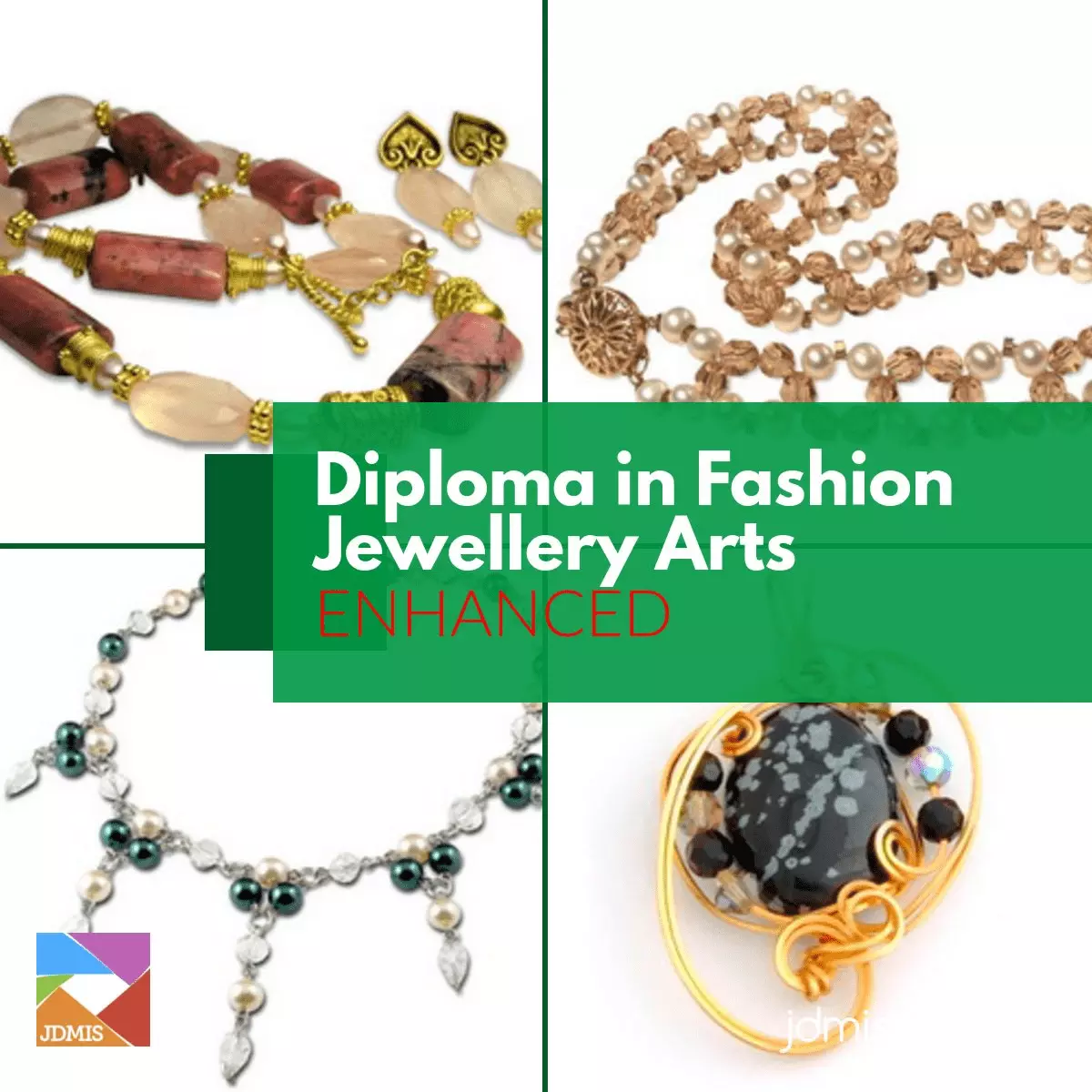 Diploma in Fashion Jewellery Arts
Want to produce quickly and efficiently? The fastest way to creating high quality, fashionable jewellery is by knowing what materials and pre-fabricated components to select and how to assemble them professionally. Using the tips and techniques from our Fashion Jewellery Arts Programme, many fashion jewellery artists are able to quickly create entire lines of jewellery and been able to build a loyal customer base. Learn more.
Request Diploma Syllabus
Why JDMIS' Jewellery Diplomas?
Funding up to 70%

Generous SkillsFuture funding for Singaporeans and PRs

Modular & flexible

Modular pathway from Certificate to Diploma & complete at your own pace, weekdays or weekends

Lifetime refresher class

Refresh and update your knowledge and skills for free after graduation
What our students have to say?
I am very confident that the skills and techniques I have learned will help me immensely with finding work as a fine jewellery designer

- Carys O.

My favourite course! Didn't expect to learn digital design that easily, thanks to Alex's wonderful teaching.

- Soi Mui (Singapore)

Tanja is so knowledgeable and kind. She is also patient and explains everything very clearly... This course will definitely help me get to where I want to be in my jewellery career. I can't wait to enlist myself in Part 2 of the course.

- Nargis M. (Singapore)

I have gone to quite a few courses, this is the first time I meet a teacher with was so much patience. Thank you so much Tameem.

- Chai Wee T. (Singapore)

Great instructors, environment, material and practice... Design jewellery for self, family

- Catherine C. (Singapore)

The course was very detailed and I learned a lot while building a steady foundation for the skills I hope to achieve. Course outline and timings were great for busy adults. I love the way my lecturer Tanja conducts the lessons and I'm definitely looking forward to more classes with her.

- Tracy T. (Singapore)

Interesting well-paced classes with useful practical tips and the best instructor one could ask for!

- Calvin Z. (Singapore)

Very well organised and presented. Tanja is superb, could learn loads from her... Very excited to start making designs for myself.

- Chye Lian L.(Singapore)

It's a great and useful course... The course content is very well curated.

-Kai Jun E. (Singapore)

The course is definitely worth enrolling to get a good fundamentals on jewellery design concepts. Everything you learnt is applicable and opens yourself to the basic fundamentals you need. Great mentor and learning journey for every lessons!

- Eric W. (Singapore)

I would say that the teachers are very passionate and skilled. Students will get hands-on experience with good guidance and also life long contacts with students and teachers.

- Valerie S.(Singapore)

The structure of the course materials was easy to follow. All the tools are relevant for the day to day CAD design.

-Hannah A. (US)

Even though I am not the neatest in drawing, I have learned the basics of jewellery and fundamentals of designing through this great course.

-Lazima S. (Sri Lanka)

JDMIS is the the best academy to learn and study more about the jewellery industries. It provides all the useful informations and materials which I'm very sure I can't find in any other academy out there, which helps us to achieve success in this industry!

- Kassim M. (Singapore)

It's a very well paced and fantastically organised course with lots of materials and sufficient examples for learning...A wonderful opportunity to pick up new skills and knowledge within the realm of jewellery and designing

- Wei Yeong L. (Singapore)

Absolutely loved the course. Very informative and the trainer made it so easy for us.

- Rani V. (UK)

If you are looking for a very effective yet relaxing course, JDMIS is the one. There is no pressure in learning because the course materials are provided online and you can discuss things with the teacher in class weekly. The amount of homework and assignments are just the right amount to handle. I'm lucky to have decided to join this program.

- Phwan Lao K. (Thailand)

A wonderful course that gives the knowledge of designing jewels, more flexibility to the designer and creates the final output easily.

- M. Sha (Sri Lanka)

A wonderful class taught by Tanja Sadow. She is a very engaging instructor with lots of professional insights that were readily shared and very apparent in class. Really enjoyed learning from her and was very inspired.

- Ling Kai Ng.(Singapore)

Really appreciate the detailed course materials and demo sessions in class!

- Michelle T. (Singapore)







Why JDMIS?

Founded in 2007 by Gem & Jewellery Expert Tanja Sadow, The Jewellery Design and Management International School in Singapore has provided education in the jewellery arts to local and foreign students in the region. Since then, JDMIS has grown into an established regional training brand, delivering exceptional jewellery education to individuals from over 42 different countries and training the best local and international brands.

4,700+

Certified graduates