Do you have a father figure in your life (husband, grandfather, uncle...) for whom you are thankful and would like to give a gift of appreciation? Or are you a father yourself looking to explore something new this Father's Day?
For Father's Day this year, treat yourself or your father figure to a precious and rare experience: $2000 Gemmology course conducted by the Jewellery Design & Management International School (JDMIS)!
Enter The Lucky Draw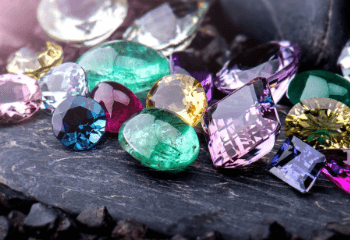 Knowledge of Gemmology and the latest trade practices is essential for every aspiring gem enthusiast, dealer, and collector.
Not only can you make better-informed decisions but also avoid overpaying when purchasing various gemstones.
In 5 days, you will learn in-depth knowledge about:
Classification of gemstones
Factors affecting the value of the Coloured Gems
Natural versus synthetic Diamonds
Freshwater vs Saltwater Pearls (Natural, Cultured, and Imitations)
Fascinating Phenomenal Gems
Jade and jade Imitations... All within just 30 hours!
This course comes with a gem connoisseur package which includes a jeweller's loupe, gemmological pen light, tweezers, gem cloth and practice gems (worth $261)
The lucky winner chosen at random will get for free the highly popular 5-day Gem & Jewellery Trade Secret Certificate course with JDMIS worth $2000!
There will also be:
5 runner-up prizes:half-day trial voucher for the above Gem & Jewellery Trade Secrets course
10 consolation prizes: jewellery training vouchers worth up to $450 each for jewellery training courses at JDMIS.
For more information about JDMIS Gem & Jewellery Trade Secrets Certificate, please visit: https://go.jdmis.com/GT100-giveaway or watch the trailer video below:
Preview video
I love the way Tanja teach! The class were never bored as she fills the lessons with examples and stories related to the topic of the lessons.

- Louis L.(Singapore)

Love the history, story and trade sharing by Tanja... Very insightful learning!

- Eileen L. (Singapore)

Loving the gem course and Tanja is always very informative... It's engaging and full of new information

- Faizal S. (Singapore)

Everything was so well organised and executed. There was so much information shared and things to learn that I wish our course was slightly longer.

- Esther C. (Singapore)

Tanja is amazing, professional and really experiece and patient with all of us.

- Scott P. (Singapore)

Great instructor, great course materials and fun environment... I really learn a lot from this course and really love it. I can identify my gemstones better.

- Su Myat T.

Overall, the course was very well planned, course materials were excellent and the instructor was marvellous. I cannot think of a single complaint and I would highly recommend this course to friends who would be interested to know more about the Jewellery and Gem trade. Keep up the good work!

- Raymond K.

I am surprised by the extend of sample gemstones available for use in class. Enough details. Fantastic.

- Gerard L.
Read to participate?
The last day to enter is 22 June 2022 or when the first 100 entries are reached, whichever earlier. Please submit the form below to enter the lucky draw
*You will be contacted by one of our representatives before 30th June regarding the results of the lucky draw