Make Better Choices
when you buy jewellery...
Interested in the sparkling world of jewellery? Want to learn more about what it takes to design a unique jewel or what goes into the production of quality jewellery? Interested to learn more about what gems are on the market and how you can get the best value for your budget?
Tanja Sadow, Dean of the Jewellery Design and Management International School has created a brief infroduction to the fascinating world of Gems and Jewellery! Learn about how jewellery is designed and manufactured, how gemstones are valued and even how to identify some imitation gems is this great free e-book!!

What's
Inside

...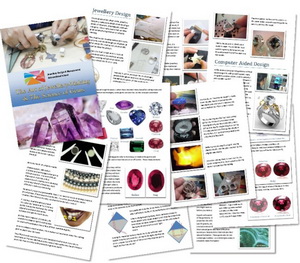 In this colourful 48 page e-book you will find details about jewellery manufacturing and gemstones supported by hundreds of colour photos! Its the perfect read before your next shopping trip, and an inspiring behing-the-scenes look at the world of gems and jewellery...