Curriculum - Fundamentals of Digital Jewellery Design
DD100 Curriculum

Learning & Career Path

About JDMIS

Facilities

Flexible Curriculum

FAQs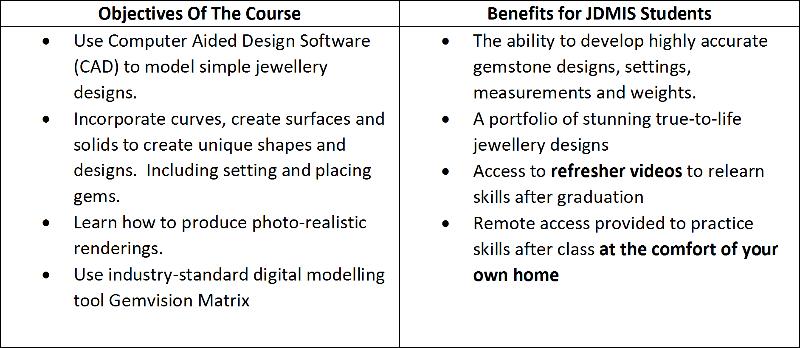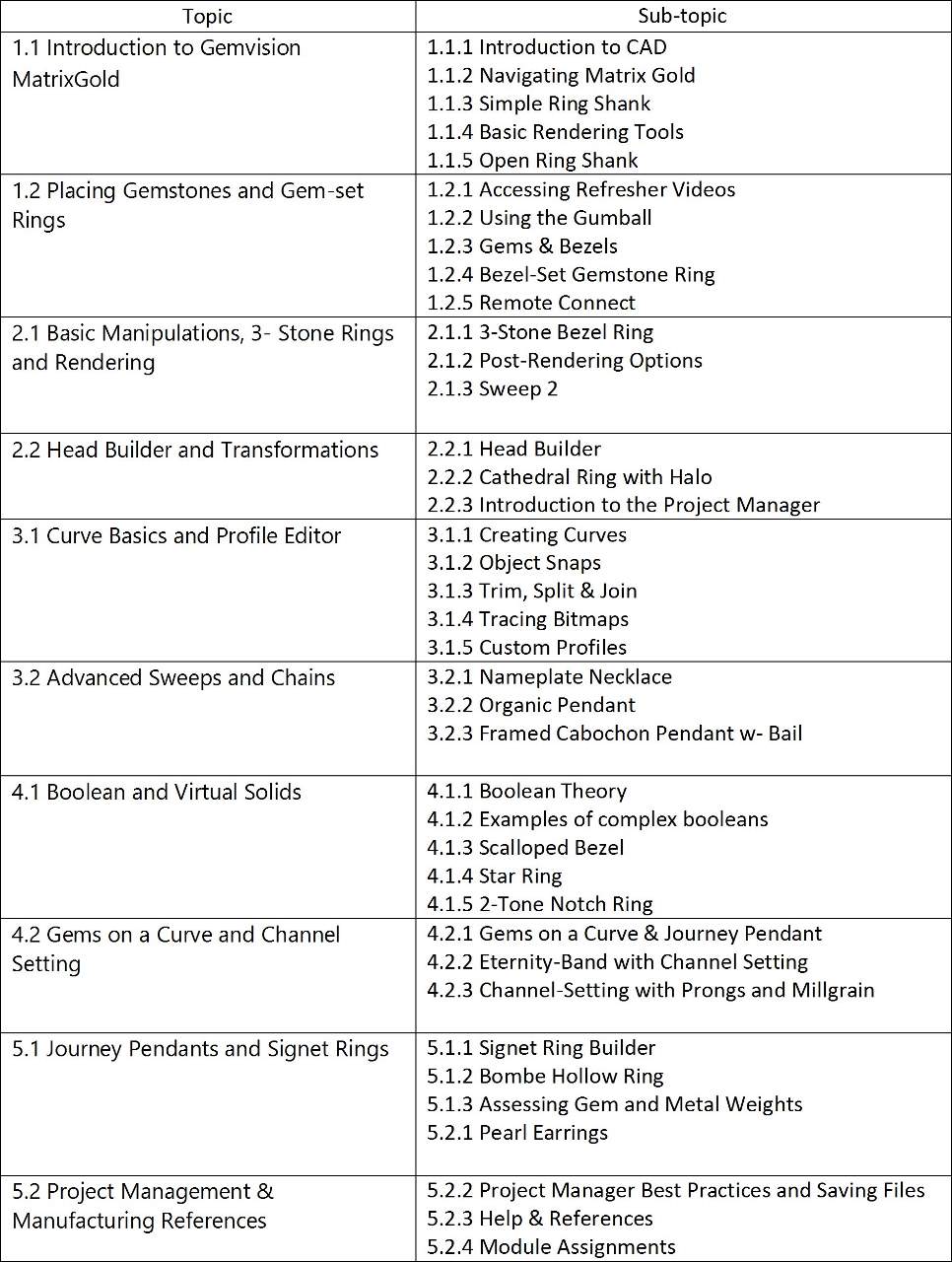 With its years of experience and long-established professional relationships, JDMIS has a wealth of industry connections. The school introduces graduates with the appropriate skills to prospective employers and does not charge nor take a commission for its job placement activities. For graduates that wish to establish their own businesses, the JDMIS also provides guidance as well as connections to entrepreneurial organizations and firms that can assist with financing and outsourcing.
Possible learning and career path for
Digital Design
graduates: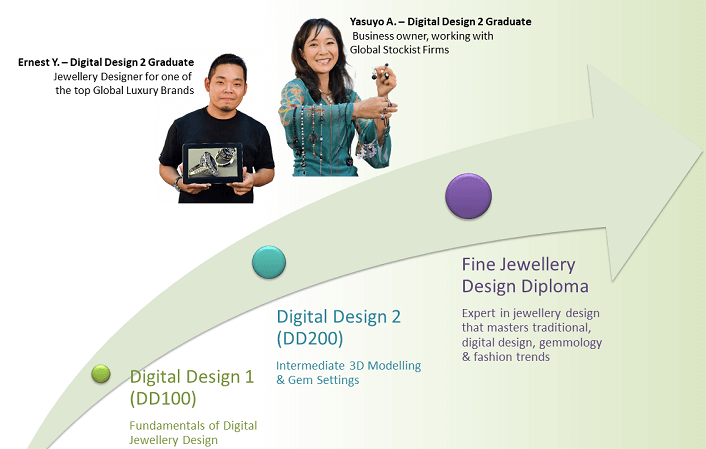 Jewellery plays an important role in our economy. In Singapore, where retail represents over 1 tenth of domestic output, Jewellery is the 3rd largest contributor... above Fashion, and electronics! If it sounds surprising to you, it's because Jewellery is an exclusive industry with a small workforce - each employee in this industry generates a very high economic value using their knowledge and design skills! The important question is, how do you become part of this mysterious and highly productive workforce?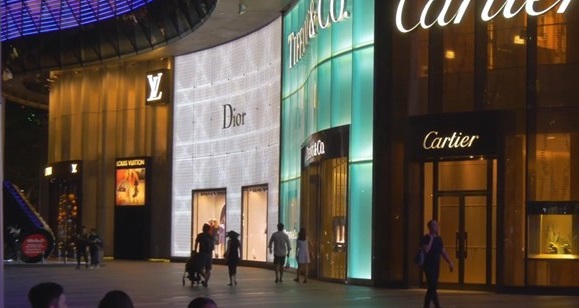 JDMIS provides education and inspiration by means of specialised academic programmes and professional skills training for the jewellery industry. We are the only specialized Jewellery Training Institution in Singapore and have served the discerning needs of local and world-renowned international jewellery clients from the region for over 12 years.
JDMIS is a registered private educational institution, a programme partner with Workforce SG and its certifications are recognized within the industry to represent training that can be placed into immediate, practical use by staff in retail, design and fabrication capacities.
We have an average of student-to-teacher ratio of 1:8, which is much lower than the industry's average. JDMIS campus is located in a spacious 5200-square-foot location with state-of-art facilities:
5 dedicated classrooms
2 workshops with casting, plating, polishing, laser welding and other specialized facilities
A large student lounge
Over 1,500 gems and jewellery learning exhibits
Specialised retail showroom for students to meet clients and sell their pieces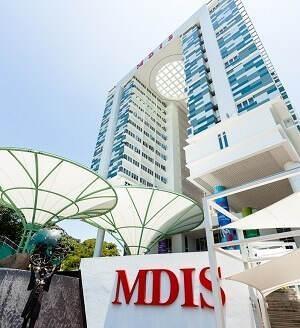 JDMIS is a Join Venture Partner and located inside the campus of the Management Development Institute of Singapore since 2018. Students of JDMIS can also apply to stay and use hostel facilities provided by MDIS for the duration of their courses.
In addition to this conducive setting, our classrooms include many top-notch industry-grade tools and machinery such as a large, multi-purpose high-temperature kiln, rolling mill, wire drawing station, torches, drills, magnetic and rotary finishers, flex-shafts, polishing and plating equipment, hydraulic press, and many, many other tools of the trade. Computer aided design students avail of a state-of-the-art CAD lab by Lenovo and Industry leader GemVision.
The Ruby Room With Advanced Metalsmithing Equipment

The Emerald Room For Traditional Metalsmithing

The Gem Vault With Over 1,500 Samples

The Amethyst Room For Digital Design

The Citrine Room For Traditional Design

The Amber Room For Fashion Jewellery

The Sapphire Room For New Metals

Student Lounge

The Creative Jewellery Studio Provides Subsidized Showroom Space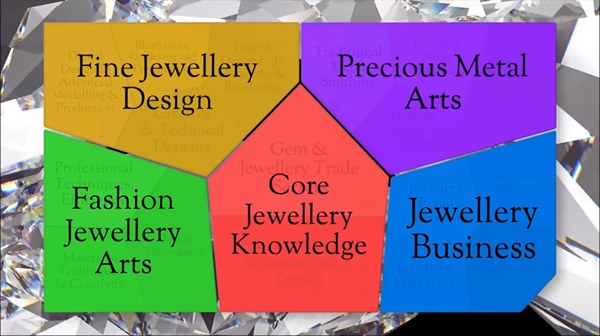 Participants can work at their own pace to reach their objectives given the flexible timing and modular design of the curriculum. Learning is fast, focused, effective and fun. Participants gain a comprehensive set of skills that formerly took years to master and the JDMIS curriculum allow people to begin creating immediately. Those wanting to become independent jewellery designers will quickly gain the necessary skills, experience and knowledge needed for success.
With a broad selection of academic courses from jewellery design, trends to marketing and management, JDMIS produces graduates with well-developed artistic abilities as well as the technical skills and business acumen to succeed.
JDMIS students will also enjoy the following
complementary benefits:
Access to the Creative Jewellery Studio which offers our graduates subsidized display areas, marketing & merchandising services
Free entry to JDMIS special functions, product launches and meet-the-industry events
Early access to overseas field trips
Lifetime access to refresher classes after graduation
Up to 25% off for purchase of materials and tools from us in the future
Questions

Answers

How old is the JDMIS?

The JDMIS was founded in 2007. It is owned by a Training organization established in 1995 that has taught over eleven thousand Singaporean and international jewelelry trades people and students. Its founder, Tanja Sadow, has developed and worked with state and private jewellery training organizations for over 30 years.

The JDMIS is a registered Private Educational Institution (PEI) with the Singapore Council for Private Education. It was accredited by the Consumer Association of Singapore's CASETrust for Education programme and is currently preparing for EduTrust certification. It is an Approved Training Organization with the Singapore Workforce Development Agency and contributed to the development of national training standards for the jewellery industry.

Cost and subsidies?

The prices of our Diploma programs range from $10,800 to $12,500 while that of the Certificates (Modules) range from $1,800 to $2,500.

Scholarship is available for students in special circumstances: https://jdmis.edu.sg/jewellery-education/scholarship.html

You may also contact our hotline or write to us at This email address is being protected from spambots. You need JavaScript enabled to view it. to inquire for the latest price and offers.

*Our courses arecurrently not compatible with Skillsfuture credit.

What qualifications will I get?

For the Certificate courses, students will receive a JDMIS certificate of attendance for the course which they have taken. Each Certificate covers the same topics as the equivalent modules in the JDMIS Diploma and Advanced Diploma programmes. Those students who have received their certificate and wish to apply for a Diploma may apply for credit towards their Diploma by completing the additional self-study coursework and examinations required by the Diploma curriculum.

For the Diploma programmes, students will receive a JDMIS diploma for the programme which they have taken. In some cases, where relevant national training standards have been established and contingent on attendance and achievement of competence in these standards, students will also receive a national Statement of Attainment.

Is my qualification recognised in the industry?

The JDMIS curriculum was designed with input from the jewellery industry, and heeded the call for the programmes to be relevant to today's creative world. In Singapore and abroad, organisations such as Tiffany & Co, Cartier, Harry Winston, BP DeSilva Group, Louis Vuitton as well as gemstone manufacturers like Swarovski and Signity value our training curriculum and send their staff for training. International firms such as these and many local jewellery businesses also employ JDMIS students in various capacities.

The school is registered as a Private Educational Institution, and its courses qualify for subsidies with the WDA's Skills Development Fund programme for employee development within the jewellery industry - ie: they are suitable for academic and vocational study. Experiences have shown that fine arts schools in Europe have given JDMIS students appropriate credit for the work they have accomplished here.

What are my career opportunities?

Like any other creative industry, the jewellery industry is one in which individuals can create their own unique opportunities. Job categories include: jewellery designer, jewellery artist, jewellery retail specialist, jewellery marketing professional, jewellery management professional, educator or even an entrepreneur in the jewellery industry

What is the class size?

The school's facilities include classrooms and library facilities and has a total capacity of 48. An individual class consists of between 5 and 11 classmates, dependent upon on the type of course and method of presentation. For skills-based courses, the school maintains a student-to-teacher ratio of 12:1 or better

How to enrol?

All applicants wishing to enrol in diploma courses must submit:

Completed application form & 2 colour passport-size photos
Copies of all relevant academic / professional qualifications and transcripts and/or documentation of work experience
Registration fee of S$321 (Non-refundable)
Where English is not the applicant's first language, proof of their passing grade in a standardised English test