Admission Requirements
JDMIS Admissions requirements differ from program to program.
Consult the specific admissions requirements for the program of interest to you.
Full-Time Diploma Courses
JDMIS full-time diploma courses require:
For Singaporean students recently completing their secondary studies:




O-level English This is both a measure of English ability as well as commitment to study and ability to cope with the pace of study at our school.

For foreign students recently completing their secondary studies:




Standard K-12 style high school education examples of which are provided below: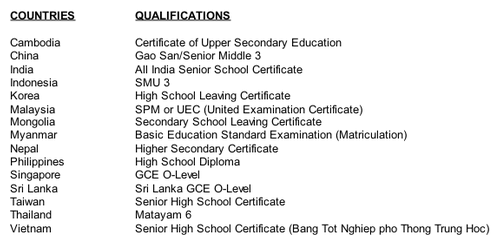 in addition to high-school education the school requires separate English proficiency
C6 in English at GCE O-Levels

IELTS score of 5.5;

TOEFL score of 500 (Paper based test);

TOEFL score of 173 (Computer based test);

TOEFL score of 61 (Internet based test);
The non-English portion of this requirement is a means for us to evaluate commitment to study and ability to keep up with our courses.
For working professionals (for example those working in the jewellery industry for >5 years)




N-level or equivalent English. This category of student has a substantially different internal motivation to complete their training and many already have relevant industry experience or qualifications, even if they do not fit within modern secondary education systems.
If in doubt whether you meed the requirements for study at JDMIS, please contact the registrar at This email address is being protected from spambots. You need JavaScript enabled to view it.
Full-Time Advanced Diploma Courses
Graduates of the JDMIS Diploma Course or those with equivalent education or experience.

Students with experience but who are lacking specific segments covered in the Diploma Course will have the opportunity to use the JDMIS part-time diploma modules or short certificate programes to complete their entrance requirements.

Students for any full-time advanced diploma course must meet the english language requirements stated for diploma courses above.
Full-Time Specialist Diploma Course
Students who already have a Degree or Diploma in another discipline but wish to undergo specialist training in Jewellery Fabrication Techniques or Gemmological Knowledge should consider the JDMIS Specialist Diploma in Jewellery Design & Fabrication.

Requirements for this specialist diploma are the same as that of the diploma (ie: High-school or O-level ; N-Level with relevant industry experience) but we recommend students pursuing a specialist design and fabrication track to supplement this heavily skills-based course with other more academic qualifications in a different field such as business.

Students for any full-time advanced diploma course must meet the english language requirements stated for diploma courses above.
Short Certification Courses
Short certification courses are open to all students with English proficiency. Documented proof of English proficiency for short courses is not required however the requirements listed above for diploma programmes serve as a guideline for the English level that is required.

In special cases, where professional jewellers attend courses and feel their English language skills may be a barrier to their training, the school can perform an ad-hoc assessment with a relevant instructor that will evaluate suitability for these courses

.
Note on English Language assessment
Candidates who do not meet the diploma English Language requirement but are competent in the English language may opt to obtain a Workplace Literacy (WPL) statement of attainment (SOA) in Listening, Reading, Speaking and Writing under the WDA's Employability Skills System using the Assessment-only Pathway (AOP) at minimal cost from one of several local Continuing Education & Training Centres.
WSS WPL Level 5 is required for Diploma and Specialist Diploma courses, Level 6 is required for Advanced Diploma courses. A minimum WSS WPL Level 5 is recommended for short certificate courses.
For information about specific admission requirements, please contact us directly via email: This email address is being protected from spambots. You need JavaScript enabled to view it.